OVHcloud is a European cloud computing and hosting company. It was founded in 1999 in France and has since expanded to operate globally, with locations in Europe, North America, and Asia. OVHcloud offers a wide range of services, including cloud infrastructure, dedicated servers, web hosting, and domain name registration. The company is known for its innovative technology and commitment to privacy and security, making it a popular choice among businesses and individuals who require reliable and secure hosting solutions.
So OVHcloud is chaos when it comes to the client area. They have so many account regions that you might sign up for one account in one region which can't buy some of the products, and you would never know that you have switched to another region to buy the product which is unavailable in your current account region.
Take OVHcloud US and other regions as an example, the US region cannot buy domain names, but CA, IE, FR could. So if you want to purchase a domain name, it's highly possible that if you are using the US region, you may switched to CA region without even noticing, and their client area looks exactly the same. And if you login to the CA client area with US account, it will just say "incorrect username or password". It won't tell you anything. So it's really frustrated.

And by the way, the US region is generally the most expensive, but less racist for their customer support.
Ok ok, so OVHcloud US announced an offer around the end of 2022. You can buy the plan VPS Starter for just 0.97$/month! And the discount is permanent. I have actually sent a ticket just for asking this. Because the OVHcloud console really sucked and it's extremely hard for me to screenshot the page, so I quoted the content here.
Hello Frank,   The promotional pricing will remain in place for the life of the subscription or as indicated in the terms of the promotion. This means, your account will be billed $0.97 plus tax per month for your VPS vps-********.vps.ovh.us as long as the service is active on your account. We will close the ticket shortly. If you have any other questions or concerns, please feel free to contact us via support ticket or chat. Thank you for choosing OVHcloud US.   Regards,

Ayele K.

Order and Billing Specialist

Please visit our online help center: https://support.us.ovhcloud.com/hc/en-us
As for spec, well, it's just "VPS Starter" spec. You get 1 vCPU core, 2 GB RAM, 20 GB SSD, and 100 Mbps symmetric bandwidth with no bandwidth limit. You have only two regions to choose from (because OVHcloud US only offers these 2), one is US-WEST-OR, which is Hillsboro, OR, and the other is US-EAST-VA, which is Vint Hill, VA. Because this is OVH, you get nearly infinite DDoS protection with NO extra fee. It's really a great choice for a personal blogger like me because this is so cheap. (You can't buy it for just 0.97$ now because the activity is expired, you need to buy it at the regular price, which is 4.2$/month.)
Bullshit aside, let's look at the benchmark.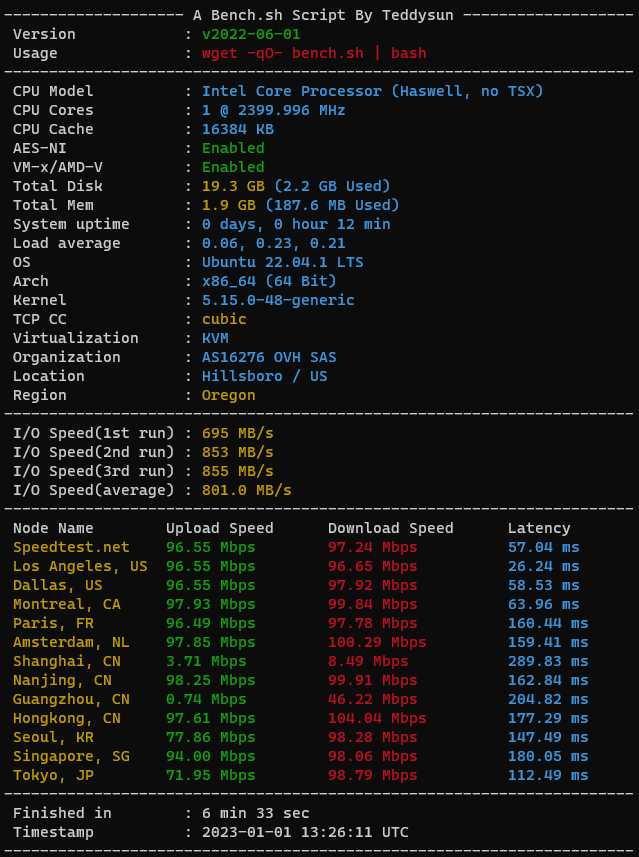 Expected, and great.
OVH, quality is not a problem, and the price isn't a problem now. There's no reason that I don't use it. I migrated this blog (frank-ruan.com) to this machine earlier this year (2023), moving from Azure East Asia. It's really a HUGE upgrade. It's noticeably faster than Azure, especially when I am doing things in the WordPress Console.
I loved it, that's it.
---